KEMET-TOKIN - Resin Coated Piezo Actuators
Piezoelectric Multilayer Actuators
AE Series
| | |
| --- | --- |
| | |
| Thick Coating (Type F) | Thin Coating (Type DF) |
Outline
Kemet-Tokin's multilayer piezoelectric actuators are manufactured by Kemet-Tokin Corporation of Japan and distributed by Micromechatronics Inc in USA.
Compared to conventional bulk piezoelectric actuators, they are similar in size but can generate higher displacement and force at low voltages, thanks to their multilayer structure.
Especially, the resin-coated AE series actuators feature compact size and wide variety in shape for use in ultra-fine positioning mechanisms and drive sources for various applications.
Standard Parts List
Outer Dimensions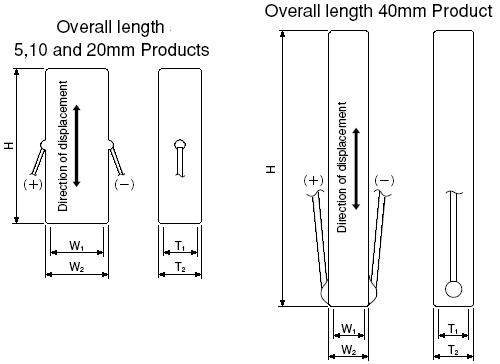 Features
Special ceramics developed by TOKIN-KEMET are used in piezoelectric ceramic elements. As compared with conventional actuator elements, TOKIN's multilayer actuators have the following advantages:
Large generated force: 3,500 N/cm2.
High-speed response: Driving up to about 1/3 of self-resonant frequency (in several ten kHz) is possible.
Accurate positioning: Controllable in nm.
Low power consumption: Can be retained at the leakage current (100?A or less).
Very small size
Advantages over electromagnetic actuators
Superior response
High resolution for positioning
Low power consumption
No electromagnetic noise
Advantages over bimorph piezoelectric actuators
High energy conversion efficiency (around 7 times the
energy conversion efficiency of the bimorph type actuator),
and low power consumption
Large generated force
Stable displacement, and reduced shift and creep phenomena
Higher response speed (more than 100 times the response
speed of the bimorph piezoelectric actuator)
Advantages over stacked piezoelectric actuators
Compact (less than 1/10 the specific ratio of the stacked
piezoelectric actuator)
Low drive voltage, and ease of use
Inexpensive
Applications
Auto focusing of cell phone camera, Image stabilization on DSC, Positioning, Motors, Pumps, Valves, Vibration source, Vibration controls, Sensors, Mirror / Prism positioning, Manipulators, AFM, Printer, etc.