TD250 - Six Channel 250V Amplifier for Driving Piezo Tubes
Piezoelectric Drivers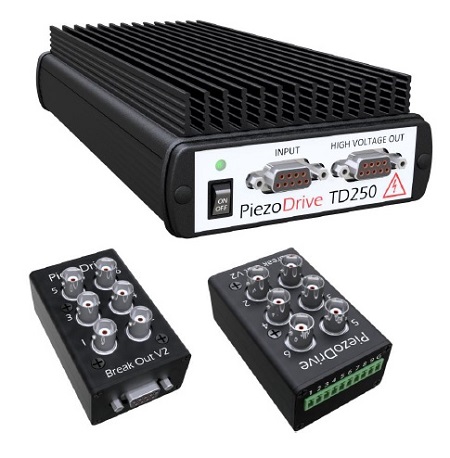 Specifications:
Electrical Specifications
Output Voltage Ranges
+/-250 Six Channels
RMS Current
28mA per channel
Peak Current
100mA per channel
Gain
25 V/V
Slew Rate
20 V/us
Signal Bandwidth
26 kHz
Power Bandwidth
15 kHz (400 Vp-p)
Load
Stable with any load
Noise
61 uV RMS (100 nF Load)
Protection
Short-Circuit, Temperature, under-voltage
Input Impedance
1 MOhms
Input Connector
9 Pin D-Sub
Output Connector
9 Pin D-Sub
Power Supply
15V, 3A Minimum
Mechanical Specifications
Environment
0 - 40 C (32-104 F), Non-condensing humidity
Dimensions
216 x 108 x 48 mm (8.5 x 4.3 x 1.9 in)
Weight
1kg (2.2 lb)
Features
The TD250 is an ultra-low noise, six-channel +/-250V amplifier suited to driving piezoelectric tubes and other actuators. The six channels can be ordered as either independent (TD250-SGL), or as three channels with non-inverting and inverting outputs (TD250-INV), which is ideal for driving piezoelectric tube scanners. The inverting configuration can also be used to obtain +/-500V with a bridged load.
The TD250 can drive unlimited capacitive loads such as piezoelectric tubes, stack actuators, standard piezoelectric actuators, and bender actuators. Applications include nanopositioning, microscopy, electro-optics, and vibration control. The input and output connectors are industry standard 9-Pin D-Sub connectors. The amplifier is supplied with two 90cm DSUB cables and two breakout boxes that include BNC connectors and plug-in screw-terminals. OEM and customized versions are also available.
Compatible Actuators
Piezoelectric Tubes
+/- 250V
Piezoelectric Actuators
+/- 250V (grounded load), +/-500V (Bridged load)
Two Wire Benders
+/-250V (one electrode grounded) +/-500V (bridged load
Three Wire Benders
+/-250V on each electrode, or +/-250V with HV Bias)
Power Bandwidth
The power bandwidth is the maximum frequency periodic signal that can be reproduced without distortion. The calculator determines the maximum operating frequency and required power for a given load capacitance. The calculator includes the effects of current limit, slew-rate, and signal bandwidth. The calculator does not include the time-constant of the peak current limit, and may be inaccurate when the power bandwidth is below 100 Hz.
Delivery Contents
TD250 amplifier
Two breakout boxes with BNC connectors and plug-in screw-terminals
Two 90cm DSUB9 cables, Male-Male, with straight-through wiring
Universal power supply 90 Vac to 250 Vac, 15V 3A output
IEC C13 power cable, suited to the shipping destination
Warranty
The TD250 is guaranteed for 12 months. The warranty does not cover damage due to misuse.
Legacy Products