HUS-3 Portable Ultrasonic Sound Pressure Meter
Ultrasonic Sound Pressure Meter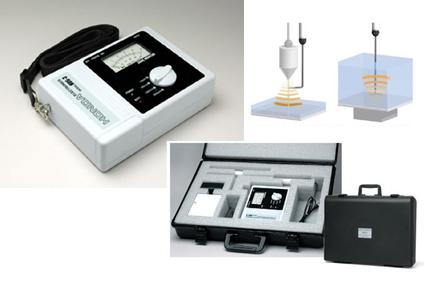 Specifications for the HUS-3 Generator
Frequency Response

10kHz ~ 5MHz

Power Input

Lithium Battery: Model JP01 (HBT-001)

DC 14.8V; 1.5W

Charger

Dedicated AC charger: Model JA01 (BT-024)

85VAC to 240VAC

Signal Input

Four types of sensing probes available

Measuring Range

10mV, 50mV, 100mV, 500mV

Dimmensions

W=180mm x D=130mm x H=50mm excluding protrusions

Weight

0.64kg including the Lithium-ion battery

Meter Display

Vots rms (mV) (relative value to sound pressure)

Temperature

5 ~ 40° C
Sensing Probes Options for HUS-3 Generator
Model

HUS-5 SPS

HUS-5 SPL

HUS-5 SUS

HUS-5 SUL

Material

Quartz Glass

SUS316L

Overall Length

Straight type: 340mm

L-shaped

250mm (L part 80mm)

Straight type: 340mm

L-shaped

250mm (L part 80mm)

Cable Length

1.5m

Weight

0.08kg

0.14kg

Temperature wetted part

~ 0 to 70°C

Non compatible liquids

Heated strong alkaline,

Hot phosphoric acid, hydrofluoric acid

Acid
Features
Portable pressure sensor equipped with a built in rechargeable battery. Able to be used for up to 10 h.
Displays a relative value to the measured ultrasonic power which can be used as a reference of the cleaning effect or as a means of profiling the ultrasonic or megasonic distributions in an ultrasonic cleaning apparaus.
It is compatible with most cleaning solutions.
Applications
Often, it is necessary to measure the output of ultrasonic and megasonic cleaners for quality control. The HUS-3 provides the user with this capability. Some of the typical HUS-3 include:
Check cleaning efficiency for cleaners
Adjust or tune cleaners in both laboratory and production line environments
Measure sound pressures in the range of 10kHz to 5MHz
It can be used for all types of ultrasonic cleaners: immersed type, water flow type, and tank type.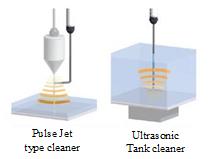 How to order
If you need a specific quote, please request so by sending us an e-mail through "Request for Quote" by refering to the following part number or by calling us at 814-861-5688 (8:30am to 5:30pm EST). You can also directly place an order by calling us with your credit card information or sending us a Purchase Order form.
HUS-3 Standard Configuration
HUS-3 main unit
Probe sensor (to choose from type SPS or SPL or SUS or SUL)
Carrying case
Strap
AC adaptor for battery charging
Lithium-ion polymer battery
Operating manual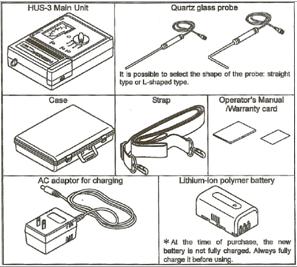 HUS-3 Optional Parts
Article
Part Number
Units per case
Picture

Charger Stand

JS01

1

AC adapter

JA01




(BT-024)

1

Lithium-ion polymer battery

JP01




(HBP-001)

1

Point sensing cover (available for straight sensors only, SPS and SUS)

PS01

1
HUS-3 Purchasing Options
Article

Part Number

Price

HUS-3 Main configuration with

Quartz straight sensor

HUS-3 Main configuration with

Quartz L-shapped sensor

HUS-3 Main configuration with

Steel straight sensor

HUS-3 Main configuration with

Steel L-shapped sensor

HUS-5 SPS Quartz straight sensor
HUS-5 SPL Quartz L-shaped sensor
HUS-5 SUS Steel straight sensor
HUS-5 SUL Steel L-shaped sensor

Charger Stand

AC adapter

Lithium-ion polymer battery

Point sensing cover

(available for straight sensors only)

PS01