W-113A Multifrequency generation for even distribution of ultrasonic energy.
Desktop-type Ultrasonic Cleaner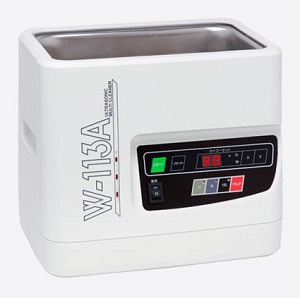 Features
Multi-frequency generation. Multiple oscillation eliminates the uneven cleaning particle patterns generated by standing waves.
Three frequencies. The 28 kHz frequency is suitable for removal of hard to remove contaminants. The 45 kHz frequency allows for cleaning smaller particles and contaminants. The 100 kHz allows for more delicate cleaning. By alternating the application of these frequencies a more even cleaning is possible. Duration of vibration at each of the three frequencies can be set independently. Single-frequency cleaning can also be selected at any of the three frequencies: 28 kHz, 45 kHz and 100 kHz. Thus, the best cleaning time for the object to be cleaned can be selected.
Splash-proof membrane. Splash-proof membrane keypad allows trouble-free operation and easy selection of the cleaning mode and setting of the cleaning time
Simple operation. Cleaning operation can be programmed simply. The program is stored in memory after the machine is shut down, for repeated use.
Power cable with a recess-fitting plug and a drain port make it easy to move the unit and change the liquid.
Specifications
Model Code

W-113A

Oscillation Mode
Single frequency oscillation / 3 frequency sequential change oscillation
Maximum Output Power
100W
Oscillation Frequency
28kHz / 45kHz / 100kHz
Transducer
Special bolt clamped Langevin transducer
Power supply

AC 100V 50/60Hz; 2A

(Requires 120V/100V adapter for USA operation)

Power consumption
200VA
Timer

Total cleaning time: From 1 to 30 min.

Preset duration of each frequency for multiple oscillation: From 1 to 99 sec. (Independently set for each frequency)

Inner tank dimensions (mm)

L=240 x W=140 x H=100 (3L)

Outer tank dimensions (mm)
L=290 x W=208 x H=245
Weight (kg)
4.4
Power Cable
2m (inlet type connector adoption)
Operation Switch
Cleaning mode selection key (navigational panel)
Max. liquid temperature
80oC
Drain
Inner diameter: 6A; Outer diameter: 8A
Material of tank

Tank: SUS304

Case: Polypropylene (PP)

Packing: Silicon rubber

Drain: Liquid contact portion: Nylon

Valve: Brass

Addition
Protection circuit: Thermostat
Included Accessories
Lid
Optional Parts for W-113SANPA
Part Number

KG03F

BR01

Description

Cleaning Basket for W-113A

Beaker Rack for W-113A

Correspondence model

W-113A

W-113MKII

W-113A

W-113MKII

Size (mm)

L=175 x W=93 x H=50

245 x 146 2 holes of D=90.5

Material

SUS304

Polypropylene (PP)

Appearance
How to order
If you need a specific quote, please request so by sending us an e-mail through "Request for Quote" by refering to the following part number or by calling us at 814-861-5688 (8:30am to 5:30pm EST). You can also directly place an order by calling us with your credit card information or sending us a Purchase Order form.
W-113SANPA Price List
| Article | Part Number | Price |
| --- | --- | --- |
| W-113A Cleaner Device | W-113A | Contact us |
| KG03F Cleaner Basket for W-113A | KG03F | Contact us |
| BR01 Beaker Rack for W-113A | BR01 | Contact us |
VT-500J Converter for USA operation - Recommended for USA outlet
The W-113A ultrasonic cleaner is rated at 100VAC, which is the Japanese outlet voltage. The unit can operate at 100VAC +/-10%. For operation in the USA , i.e. 110 to 120VAC, we recommend using the VT-500J converter.
Part Number
Article Description
Units
per case
Price

VT-500J

USA to Japan Step-Down Converter

Input: 110V/120V
Output: 100V/120V
Rated Load: 500VA max.
(including start-up current)
Heavy duty for continuous use
Fuse protected
Size (inches): 6 x 4 x 3
Weight: 8 lbs

1 unit

$ 95.00