STC-4SH-5028 Langevin Transducer for Cleaner
Ultrasonic Transducers
OPTION A:
Horn Surface With Threaded hole for mounting
General Application
Ultrasonic Cleaning
Specifications
| Parameter | | Specification | Remarks |
| --- | --- | --- | --- |
| Resonant Fequency | fr | 28 ± 1 kHz | HP-4194 Impedance Analyzer at 1Vrms |
| Resonance Resistance | Ro | < 25 ohm | HP-4194 Impedance Analyzer at 1Vrms |
| Static Capacitance | Cp | 8000pF ± 10% | LCR meter at 1kHz, 1Vrms |
| Mass | g | 780 g | |
| Max Diameter | D | 66.8 mm | |
| Length | L | 68.5mm | |
| Max Input Power | P | 100 W | |
| Max Input Voltage | V | 3000 Vp-p | |
| Joint Bolt | | M 10 x 1.0mm | |
Tests environmental conditions: 23 ± 3 °C; 40 ~ 70% RH
Mounting options and dimensions
OPTION A: Threaded mounting hole in the horn surface for screw fixing
OPTION A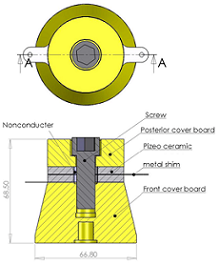 How to order
If you need a specific quote, please request so by sending us an e-mail through "Request for Quote" by refering to the following part number or by calling us at 814-861-5688 (8:30am to 5:30pm EST). You can also directly place an order by calling us with your credit card information or sending us a Purchase Order form.
Purchasing Options
Article
Part Number
Price unit

Bolt Clamped Langevin Ultrasonic Transducer
Option A: Horn with Threaded Hole

STC-4SH-5028
Option A

1-9: $132.00

10-24: $90.00

25-99: $75.00
**Prices are for reference and subject to change without notice!