Step Down Piezoelectric Transformer - 20W Series
Piezoelectric Transformers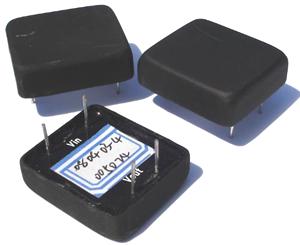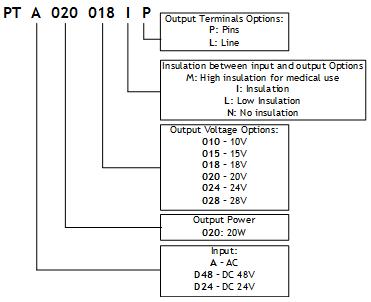 Specifications
Items
Specification
Remarks
Output Power Rating
Pout
20W
Temperature rise < 20 °C
Operating Temperature
T
-55 ~ 125°C
Tested on metal shell
Dielectric Strength (Input to Output)
Vb
> 3700Vdc / 1min
Leakage current < 20uA
Output Voltage Rating
Vout
10V
Part No.: 020010
15V
Part No.: 020015
18V
Part No.: 020018
20V
Part No.: 020020
24V
Part No.: 020024
28V
Part No.: 020028
Recommended working frequency
Freq
88 ~ 92 kHz
Input Voltage Window
Vin
50 ~ 70V
Part No.: 020010
Measured at Troom
65 ~ 85V
Part No.: 020015
55 ~ 75V
Part No.: 020018
60 ~ 80V
Part No.: 020020
60 ~ 80V
Part No.: 020024
60 ~ 80V
Part No.: 020028
Input Static Capacitance
Cin
11.5 pF ± 10%
Part No.: 020010
Measured at 1kHz and Troom
Part No.: 020015
Part No.: 020018
Part No.: 020020
Part No.: 020024
Part No.: 020028
Output Static Capacitance
Cout
300 nF ± 10%
Part No.: 020010
Measured at 1kHz and Troom
130 nF ± 10%
Part No.: 020015
85 nF ± 10%
Part No.: 020018
75 nF ± 10%
Part No.: 020020
55 nF ± 10%
Part No.: 020024
38 nF ± 10%
Part No.: 020028
Features
Step-down piezoelectric transformer using radial vibration.
Applications
DC-DC Converters, CFL and Linear Fluorescent lamps ballasts
Dimensions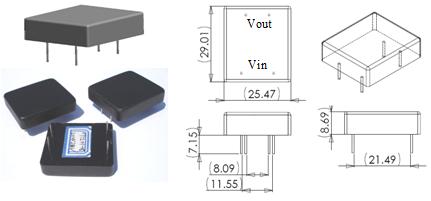 How to order
Request a quote of this product by sending an e-mail through:
by refering to the product part number or by calling us at 814-861-5688 (8:30am to 5:30pm EST). In order to place an order with credit card, you can call 814-861-5688.
Purchasing Options
Part Number
Description
Price
PT A 020 010 IP
Step-down radial Piezo Transformer
Pout = 20 W, Vout = 10 V

1-9 Units: $200.00

PT A 020 012 IP
Step-down radial Piezo Transformer
Pout = 20 W, Vout = 12 V
PT A 020 015 IP
Step-down radial Piezo Transformer
Pout = 5 W, Vout = 15 V
PT A 020 018 IP
Step-down radial Piezo Transformer
Pout = 5 W, Vout = 18 V
PT A 020 020 IP
Step-down radial Piezo Transformer
Pout = 5 W, Vout = 20 V
PT A 020 024 IP
Step-down radial Piezo Transformer
Pout = 5 W, Vout = 24 V
PT A 020 028 IP
Step-down radial Piezo Transformer
Pout = 5 W, Vout = 28 V